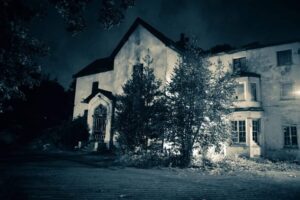 Click here to return to Investigations 2022
Antwerp Mansion is a sprawling Victorian gothic house on the outskirts of Manchester. Having spent almost 10 years as one of Manchester's most popular nightclubs, we now provide an inspiring, flexible and cost-effective location for photography or filming, for paranormal investigations, and for art exhibitions or theatrical productions.
Antwerp Mansion seems to have an energy all its own. For the right people it creates a safe bubble away from the world. It feels like a home you'd forgotten you'd lost and are happy to have found again. For the less fortunate, the house itself takes care of your departure. People leave feeling unwelcome and with no desire to return.
There have always been rumours that the building is haunted, with staff experiencing strange noises or a feeling of being watched. Members of the club often used to report seeing a person or shadow walking the length of the house from the blue room to the end of the ballroom. The caretakers in the late 70s have stories about the smaller bedroom. At the time it was used for storage of much of the original furniture including a rocking chair that used to rock by itself.
Credit: https://www.antwerpmansion.com/