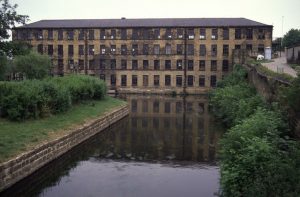 CLICK TO GO BACK TO INVESTIGATIONS 2019
A fulling mill: 1500s-1788
The earliest record mentioning Armley Mills dates from the middle of the sixteenth century, when local clothier Richard Booth leased 'Armley Millnes' from Henry Saville. The first description of the mills, dated 1707, refers to it as: 'That Fulling Mill in Armley… containing two wheels and four stocks… also the water corn mill and all the fulling mills… containing one wheel and two stocks.'
By 1788 Armley had five waterwheels powering eighteen fulling stocks. Fulling is one of the final processes in cloth production. It involves pounding the cloth with large hammers in pits filled with a mixture of water, urine and 'fullers earth', causing the fibres to mat together or 'felt'. You can still see fulling hammers in the Mill today.
The world's largest woollen mill
In 1788 Colonel Thomas Lloyd, a prosperous Leeds cloth merchant, bought Armley Mills. Lloyd re-built the mills, rather than running them himself, and leased the site to brothers Israel and John Burrows, who lived in two semi-detached houses above the Leeds and Liverpool canal. You can tour some of the Mill Manager's house during your visit.
Benjamin Gott
In 1804 Benjamin Gott bought Armley Mills from Colonel Lloyd. Benjamin Gott was a major figure in the history of Leeds and the wool industry. He became Mayor of Leeds in 1799 and was also a patron of the Arts. Gott faced disaster in November 1805, when the mill was almost entirely destroyed by fire. He re-built the mill from fireproof materials, using brick and iron wherever possible and his version of the mill survives largely intact to this day.
From waterwheels to steam power
Armley Mills prospered under Gott's management, exporting its wares as far as North and South America, and the Far East. Gott became one of the largest employers in Britain, as well as one of the wealthiest. He died in 1840 and his sons John and William took over the business. They introduced the first steam engine to Armley Mills in 1850 to supplement the waterwheels, which continued operating into the 1860s.
Leeds Industrial Museum arrives at Armley Mills
At the end of the nineteenth century Armley Mills was occupied by several different tenants, but by 1907 the woollen clothing manufacturers Bentley and Tempest were the sole occupiers. One of the firm's founders, Steward Tempest, had begun his working life at Armley as a 'half timer' at the age of six in the 1840s.
Like many other textile mills, Armley could not cope with the combination of the loss of markets as the British Empire split up, the increase in competition from abroad and the increasing use of man-made fibres. In the early 1970s the mill finally closed as a business and, in recognition of its historic importance, the site was bought by Leeds City Council, re-opening in 1982 as Leeds Industrial Museum.
https://www.leeds.gov.uk/museumsandgalleries/armleymills/History-of-Armley-Mills
CLICK TO GO BACK TO INVESTIGATIONS 2019