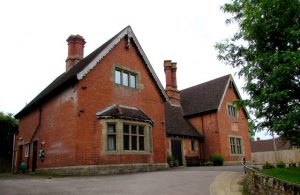 CLICK TO GO BACK TO INVESTIGATIONS 2020
Goodrich Village Hall – 7th March 2020
Originally known as the Reading Room, the Village Hall was built by the Moffatt family of Goodrich Court as a working men's club. Mr Moffatt, an admirer of the Tudor period, directed that the Hall be built in that style.
In 1975 the late John Trafford, Mr Moffatt's grandson, gifted the Hall to the village on condition that its outward appearance was retained. A Trust was established and with loans from both the Council and local residents, and numerous fundraising events an improvement grant was obtained.
During the following two years the main Godric Hall was added along with a kitchen and toilet facilities. The Hall was reopened in 1977.
In 1984 a complete refurbishment of the building was undertaken. The Billiards' Room became the Committee Room and the Reading Room was renamed the Tudor Room. This was followed by a programme of work to improve the energy efficiency of the Hall.
www.goodrichvillagehall.co.uk