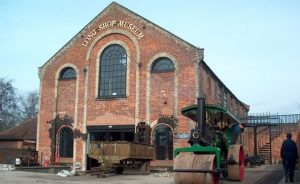 CLICK HERE TO RETURN TO INVESTIGATIONS 2015
The Cambridge ghost hunters had a very interesting night last night at the long shop museum. 
we had a few pictures of orbs, some knocking and footsteps, we had a couple of voices come through the spirit box, but a lot of voices we couldn't make out what was being said . we had a couple of things thrown down at us from an upper level including a piece of metal like an old washer.  
We also had our Rem cube go off for the first time which got stronger on demand. looking back at the CCTV footage there is a label that keeps moving by itself without any explanation. 
The Cambridge ghost Hunters are definitely going to have to visit again!