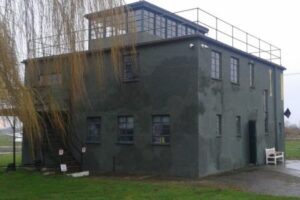 Click here to return to Investigations 2021
Rougham Control Tower – 28th August 2021
History 
Rougham Control Tower (originally known as RAF Bury St Edmunds), is a former RAF station, situated 3 miles east of the Suffolk market town of Bury St Edmunds.  The airfield was built between 1941 and 1942, and had three intersecting concrete runways.  The main runway was approximately 2000 yards long, and run in an East to West direction. 
It was designed for a United States Army Airforce unit (USAAF) bomb group.  Fifty concrete hardstands were constructed just off the encircling perimeter track.  Two T2-type hangars were erected, one on each side of the airfield. Accommodation was provided for some 3,000 personnel in Nissen and other temporary type buildings. 
The airfield was opened in September 1942 and was used by the USAAF Eighth Air Force. Bury St Edmunds was given USAAF designation Station 468 (BU). 
RAF Maintenance Command and Today. 
After the war, the field was returned to the Royal Air Force in December 1945.  On 11 September 1946, the facility was turned over to the Air Ministry.  It was left unused for several months before being closed in 1948. 
With the end of military control, Bury St Edmunds airfield's concreted areas were broken up with most of the site being returned to agriculture. 
The old technical site has been developed into the Rougham Industrial Estate.  The T2 hangars are still in use, for storage.  The control tower was used for many years as a private dwelling, and has now been restored and is used as a museum. 
The airfield, once again known as Rougham, now has two grass runways available for civil use.  Gliding and model aircraft flying are frequent and several open-air events are organised each year.