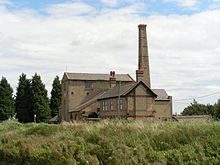 CLICK HERE TO RETURN TO INVESTIGATIONS 2016
The Cambridge ghost hunters had a very eventful investigation at Stretham museum. The team were joined by two public members last night, so thanks to Wendy and Tracy for joining us! We had a lot of voices come through on our spirit box. we had the rem cube going off a few times. K2 meters going off to questions. The team tried to do some glass work but was not very successful. The team done table tipping which went very well the table was moving and being pushed k2 meters going off at the same time. There was a name called Peter come through a few times, and some children who was pushing the table.
There was once again a very evil man come through again the diesel engine room. Telling the team to get out and telling us to shut up. some of the team tried to antagonize it one of the team members felt a pressure around his neck and as the team asked if they were effecting Calvin, the spirit box come through saying 'his neck'. so he felt he needed to leave but on his way out of the room he passed out and it took a few minutes to get him round.
well done for everyone there for their quick response in helping him and putting him into the recovery position until he come round. giving him your jackets to keep him warm. I am very proud of you all! And i know i have a truly great team! The team then felt that it was time to leave. We will be going back and having another investigation later on in the year.