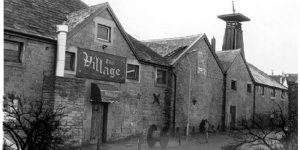 CLICK TO GO BACK TO INVESTIGATIONS 2020
The Village, also commonly known as 'The Village of the Damned' is an abandoned building situated in the heart of Mansfield, Nottinghamshire. Dating back to the early 1800's, this ominous building was once a slaughterhouse before being turned into a Malt House. Mr Merryweather, who owned the Malt houses until his death in 1835, has been sighted roaming around here, and it is felt that a group of spirits said to have been held captive in one of the hidden rooms enjoy making their presence known too.
The many hauntings that have occurred here have included men, women and children. Visitors to this disturbing venue have experienced full body apparitions as well as reported hearing the unsettling wails of a baby and witnessed a piano playing of its own accord. Recorded footage of whirling fog here also attracted international press during 2016, sparking more interest in the anguished building that until 2013, lay completely deserted for ten years.