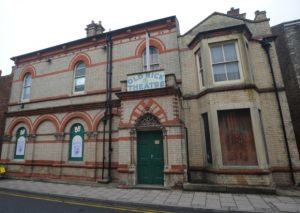 Old Nick Theatre investigation Report – 27th April 2019
Emma
The Old Nick Theatre was for over one hundred years the divisional headquarters of the Lincolnshire constabulary and a former magistrate's court and the centre of justice for many years. This converted police station consists of the cells, outdoor areas, with a courtroom and various other living areas including the inspectors quarters where he hand his family would have lived.
In 1979 the courtroom was converted into a theatre but they left the basic structure untouched, the rooms behind the theatre used to be the quarters for the inspectors family, they are now used for storing costumes.
The downstairs area has now been restored to their former purpose and you can spend time in the cells and the exercise area, as well as returning to the past in the interrogation room or the inspector's parlour.
There are at least 20 documented deaths at the Old Nick and some evidence has now been found to support this, one of the most prominent was Elizabeth Redfern.
Elizabeth Redfern is known to have knocked out two small window panes with the heal of her shoe so she could place some cloth around the metal frame and hang herself, her death certificate hanged in the cell, cause of death: suicide by hanging in the police cell.
We were stunned to find out that Elizabeth had died according to her death certificate 28th April 1885, 134 years ago, but coincidently for us, our investigation was on the 27th-28th of April which meant we were there on her anniversary of death
This was my second visit to the Old Nick, the first time was very eventful so I was really looking forward to it.
First of al our group went to the cells, as we entered the cell the temperature was fair, but the more we were there it became extremely hot, now this could be because of our body heat, but it was uncomfortably hot in there and almost not natural, whereas later in the night it was the same temperature as the rest of the cells. We were in the female cell where Elizabeth Redfern is known to have hung herself from the window, her certificate serves as a reminder on the wall. Tom our guest noticed that he could feel pins and needles on one side, I also felt a feeling like cobwebs going across my face, we used the spirit box for a while and the only word that we could make out from it was "window" we thought this might be referring to the fact Elizabeth broke and hung herself from the window that is still in the cell today. Rob was using his SLS camera and had a figure hanging from the opposite wall, this figure remained there for a while and then suddenly disappeared.
After a break we went upstairs, we spent some time in the magistrate's courts and then moved onto the magistrate's room but it was fairly quiet so we went to the base room to prepare for a return to the cells.
After a short while we went down to the cells area, we started in the women's cell by the female exercise area, it was fairly quiet but we got some knocking and banging.
We then moved to the Inspectors sitting room, everyone seemed to feel that thee was something in the corner, I decided to sit in the corner, I senses immediately someone was behind me but we got some word through on Carla's app some of which seemed to be in response to the questions but other than that it was again quiet. After this we went to the cells on the other side, I didn't feel much in there and at that point I was tired so decided that perhaps I was blocking mentally so left the group to have a break.
For me personally it was a fairly quiet night, there seemed to be lot of activity going on in rooms when I wasn't there but when I went in it stopped, I have previously been told by a few mediums and spiritualists that I have the ability to block anything I am sceptical about or when I am not in the correct frame of mind, unfortunately I think this happened at the Old Nick as like I said it was quiet for me but you will see from the reports from some of the team that they had a lot of activity, none the less I had a great night and will plan to go back again sometime.  
Emily
Well second visit to this place, was my first hunt with CGH….. They have done so much with the place, it's amazing…. We set up camp in the Kitchen….after making drinks….myself & Stacey had a quick look around….
It was decided that Cheryl & Emma were team leaders….we could decide what team…. Emma's team started down stairs in cells etc. we stayed in Theatre….
(Cheryl, Keith, Steve, Katie, Carla, Tash, Joy, me, Stacey, Jack) We started in the Theatre…. We all sat in seats, calling out, some people saw movement around back stage area……we then decided to stand in circle to build energy…. We got some tapping responses….1 for no/2 for yes….. Keith had a pain in his leg, Cheryl asked them to step away from Keith, and then Cheryl and Keith had pain in their leg….
Jack was filming our circle, I could see Carla looking behind her, saying someone is close to me, after about 5 mins she left the circle….( we asked if she was alright, she replied I feel really agitated and annoyed with everyone) We all decided to sit again, Stacey was now holding Jacks camera…. About 5-10 minutes in….I asked Carla again are you ok!? ( I got a yes) but ever so slowly Carla turned her head & looked at me…..Well all I can say is, it wasn't Carla who was looking at me, her features had changed, she looked male, and a very pissed off male, that I sensed was going to go for me/wanting to hurt me….. Well sensing & seeing this….by accident I made Cheryl jump, by calling her and getting up from my position…..(I said that was not Carla sitting there, something isn't right) Cheryl was asking it to leave Carla, step away, Jack moved in front of her, nothing happened at first, then Cheryl put her hand on Carla's back, then Carla shivered and looked at Cheryl….. Shaken up …myself, Carla & Cheryl went out of the group….(I explained to Carla what happened)
We went back inside & Jack was seating in A12 chair….he said he felt something on his legs, every time Stacey went in, his legs they were blurry, which she thought was weird…… We then went for a break…..
I was explaining to Stacey about Carla & what happened….. she had filmed Carla, but it wasn't Carla she looked male, Stacey also said she felt uncomfortable as looked menacing (so we decided to look at recording) As I get up…you clearing see Carla smirk, also you see something move behind Carla as Cheryl is asking it to move away from her, then Carla shivers…. (We are going to take closer look at film).
After break we decided to go back stage, & Carla wanted to do some mirror work….also to see if this male would come back again…. We had Craig, Matt, Cheryl, Carla, Stacey, Jack & me…. Mirror work was good, Carla's features changed…..I asked questions for yes & no answers…. We had a woman – She visit the prison to see her husband, he was only in for a short while….had 2 daughters….. The man didn't come through….. Carla & Matt created their own circle….then asked if this male was still around……he came in to area, apparently not happy, angry/swearing….. with Matts help Carla managed to get this male away from her, & not come back…..it was great to observe…. We stayed in this area for a little while longer…..we used cats eyes/spirit box & K2…… We asked the usual questions, but unresponsive…..then we started to take Mick out of Carla,…. That's when the responses came….the cats eyes went crazy only two at first, we asked if could do the third, spirit box said trying…… We were laughing and whoever was with us was really enjoying the banter…. Every time anything funny was said they would light up….. it was a really enjoyable sessions. We heard——funny, midget & a male called Tim was with us…. We had a break, then went down stairs to cells…. I found this a little flat…I had my hood pulled in last male cell…but didn't feel uncomfortable. Myself & Stacey decided to call it a night….
Peter
This was first visit to The Old Nick and boy it was pretty eventful.
We started in the old Court room which was converted to a theatre. There was tapping responses on the wooden flooring under our feet upon calling out asking questions.
After a break we started making our way downstairs to the cells with SLS (stick man) camera in hand when a figure appeared on the top landing which kept moving from one place to another… When we got to the first cell I set up a rem pod in the corner of the room next to the door.. And another member of the group (Steve) set up a portal. Within a matter of minutes calling out a figure appeared on the SLS in the corner which seemed to be in mid-air? But to us this made sense as on the walk round we was informed that a female had commented suicide in that same spot in the cell…
We had the name Elizabeth come through the portal which was also the name of the female who had commented suicide.. At that point this is where the rem pod came into action with a temperature drop of 3 degrees and the alarm going off. Upon asking questions we got responses by the rem pod, whilst calling out is that you Elizabeth? The rem pod went again. I then called out "I'm sorry you felt the need you had to what you did by taking your life" I became very light headed and had to step outside the cell upon leaving I began to feel very emotional and began to cry for a reason a I cannot explain? After composing myself I stepped back into the cell and joined the group.
A little while later myself and others heard heavy footsteps in the corridor outside the cells. To which I rushed out to find no one there. This happened 3 times which included shuffling noises as well… After that another member of the group (Katie) had the same emotional effect I had felt and began to cry to which she didn't know why? In all a very interesting night.
Keith
We started in the theatre and got tapping almost immediately which was encouraging. About 15 minutes into the vigil, I experienced a stabbing pain in my left ankle which got progressively worse. Shortly after I got a severe headache so much so I had to sit down. At this point two other team members had to leave the room because of feeling ill.
We then went to the cells where which did not disappoint in the first cell we had activity from the REM pod and this amazingly corresponded with the stick man observed on the device. The second cell did not disappoint either with our communication device saying danger and Vera, this did not mean anything to us until we read on a poster the story of a man arrested and his girlfriend Vera. So all in all a good night's investigation.